We have a secret.  And we want to share it with you! We have fallen in love with Revox™ 7 and you just have to know about how it will improve your overall skin quality and provide you with the most advanced anti-aging properties.
Revision skincare has long been a wonderful choice for your skin care needs.  They have consistently provided the purest, clinically-proven ingredients to deliver the best in anti-aging skincare.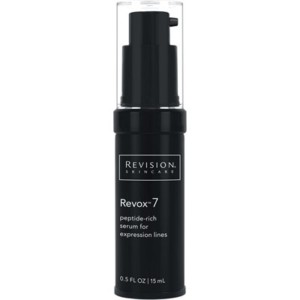 With the development of Revox™ 7, Revision has really gone above and beyond the call of duty! This oil-free formula is specifically designed to reduce the appearance of lines around your face.  Seven unique peptides (thus Revox™ 7) are infused into this dream cream to reduce wrinkles & soften those fine lines around the eyes, mouth and forehead.  It even works beautifully with in-office treatments, boosting your overall results.  It's truly age defying!
Effective on all skin types, Revox™ 7 contains the latest and greatest peptides that have never been used before! The new peptides found in Revox™ 7 are present at high levels and include Palmitoyl Tripeptide-28, Trifluoroacetyl Tripeptide-2 and Palmitoyl Hexapeptide-19.  We know that might not make a lot of sense, but trust us… it's a miracle worker!
So there you have it! The secret is out.  Use it twice daily, before your moisturizer and watch your fine lines fade away without any needle pricks! You won't ever go back.